Something Different we think – When you stay at Leighton Lodge you are encouraged to write your personal comment on a scallop shell for our "Guest Book basket".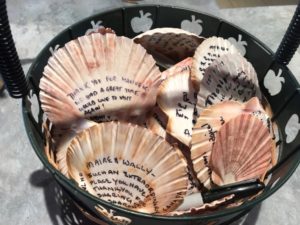 Opito Bay is considered the home of the scallop and at any time you can find a variety of shells washed up on the beach. So get cracking – have that walk along the sand and choose your own "page" for the visitors book.
When you have returned home with time to reflect on your travels, if you wish, please add a reflective comment directly into our online guest book to share with fellow travelers. Just fill in the form below.
You can also add a comment on Google.
Comments from our guests
This is more than a B&B, this is a wonderful home stay in magical part of the world. Many thanks to Maire, Wally and cheeky Fern for allowing us to join your family and community for the week. The bay is a little slice of heaven that we will cherish forever. Looking forward to a return visit one day.
Jeff & Sharyn Robinson From Alice Springs, Australia
A really homely, friendly B&B without pomp and ceremony providing all the comforts one needs. The owners are both treasures! Excellent home cooked dinners available on request. Opito Bay is a superb place to stay with a magnificent beach. Don't hesitate! Michael Brown (UK ) January 2015.
Michael & Alison Brown From Sussex UK
Great spot to just relax.. A gem of a beach with the luxury of this lodge… Deborah Lynn ( NZ ) December 2014
Deborah Lyn From Auckland NZ
Nice place and nice People. As a tourist you get a lot of information about New Zealand when sitting with Maire and Wally at the dinner table with the nice view over Opito Bay. John Arnberg ( Denmark ) March 2014
John Arnberg From Denmark
Perfect location, good utilities, we were glad there was no light outside so you saw sky with whole milkyway. Very helpful people, they did everything to make it more comfortable. Henk Koot ( Netherlands) February 2014
Henk Koot From Netherlands
We enjoyed our one night stay at Leighton Lodge in the beautiful Opito Bay, Coromandel. Great conversation and excellent food as provided by the hosts really added a special touch to the first night of our honeymoon. Would absolutely recommend trying this place, you won't be disappointed. Terina Babbington( Australia) February 2014.
Terina Babbington From Australia
We came upon Leighton Lodge purely by chance and aren't we glad we did! Opito Bay is a beautiful stretch of golden sand and the Leighton's run an amazing B&B looking out towards the sea. Our suite was lovely, decorated with Maire's artistic touch. We ate dinner with Maire and Wally – delicious food and great. Liz Hawkins ( UK) February 2014.
Liz Hawkins From UK
What a privilege to be welcomed into such a wonderful home and be treated like family. Thank you for such a wonderfully relaxing and restful holiday. What happy memories we'll keep. Derek & Judy Christy March 2014.
Judy & Derek Christy From Brisbane Australia
ein wunderschöner Aufenthalt für 4 Tage im Dez.2013 bzw. Jan.2014. Super tolle Lage mit Meerblick, so nette Gastgeber und jeden Morgen frisch gebackenes Brot zum Frühstück, es war eine Freude für uns, mit Maire und Wally die Tage zu genießen. Translated: A wonderful stay for 4 days in Dez.2013 or Jan.2014. Super great location with sea view, so nice hosts and every morning freshly baked bread for breakfast, it was a pleasure for us with Maire and Wally to enjoy the day.
Margret Mangelsen u. Klaus Neve From Deutschland
Opito Bay was the second place we stayed at in NZ – not including our friends in Auckland. We stayed in the self-catering part because it was easier for us as a family. The views over Opito Bay are simply beautiful and we all enjoyed walking along the lovely beach. Mark and I walked over the headland to get better views over the bay. Maire and Wally were very friendly, as were their two dogs. The accommodation was pleasant and clean and very peaceful. We stayed for 4 days and just loved the whole of the Coromandel Peninsular that we saw. So much so that we felt it is more beautiful than Bay of Islands where we had visited previously. If you want to stay somewhere out of the way then Opito Bay is just the ticket. We have just arrived back home today and are already missing NZ – although it may be some time before we can afford to revisit. Ann, Mark and Reisha, England April 2012
Ann Waite From England
What a wonderful, welcoming place to stay. We were greeted on our arrival by Maire with tea and homemade muffins on the deck, walked on the beach and to the top of the headland with it's glorious views, back for a delicious dinner with Maire and Wally (chatting like old friends), a refreshing night's sleep in the wonderful Pacific View room, and a lovely breakfast with Maire and Wally including homemade bread and preserves. We arrived with jet lag, frazzled after 43 hours travelling, and left the next morning refreshed and relaxed. We loved staying with Maire and Wally and we'll be back! April 2012
Maggie and John From UK
We enjoyed our stay very, very much – you are superb hosts. Opito with it's beautiful beach and it's laid back atmosphere is the perfect Coromandel place to relax. The room and your house are both, visually attractive and very comfortable – we felt just so much at home. A special place in my memory have our joint dinners (including the New year´s Eve dinner), the excellent food you cooked for us ( mussles au gratin, lamb wraps, spiced applecake -yammie!) served on a beautifully set table ,all accompanied by Wallys good-humored jokes and easy-going conversation. Thanks again Maire and Wally for all this. Cuddles to Kiri and the puppy. Again, should you come through Hamburg, we would be more than happy , if you would stay with us. Kind regards Gerlinde , Petri, Berit – January 2012
Gerlinde, Petri & Berit From Hamburg Germany
We would like to thank you both very much for a comfortable, friendly, two night stay recently. Your hospitality was truly "down to earth" – welcoming and warm. We would recommend you to anyone!! The schnapper was beautiful – thank you Wally!!
Margaret and Bob Couillault From Albany, Auckland
We loved staying with Wally & Maire. The location is awesome, the views spectacular, and our hosts were delightful, and very helpful with tips on things to do. It was one of our favorite places on our New Zealand holiday.
Brian & Jan From Lone Tree, Colorado USA
Location is fantastic, and hosts are very helpful with planning walks. It was nice to be greated with a cup of tea and warm muffin. I definitely recommend the walk to the lookout if the weather is nice. It's a lot of steps, but well worth it. Would make for a great sunrise or sunset walk. Left with the recipe for some excellant muesli we enjoyed for breakfast The rooms needed a little dusting off, and we had to make up our own spare bed, but it was a pleasant experience over all.
NZ Traveler From US
We had a lovely stay with Wally and Maire including a warm welcome also from cat and dog. Thanks, Maire, for the delicious freshly baked muffins and bread for breakfast. Since we had no luck with the weather we have to come back and enjoy Leighton Lodge even more with sunshine. Thank you, Friederike and Ralf
Friederike and Ralf From Hamburg in Germany
We had a lovely relaxed stay with Maire and Wally, The place is so well appointed and the cuisine is excellent, our hosts fully committed to making guests feel welcome. The locality has drama and views to it with the journey, along the coastal cliffs to this hidden gem of a beach community, making you feel well removed from the hustle of the rest of the world. If you want local knowledge and informed discussion be sure to find the time to sit with Wally or Maire and listen carefully, it is a treat.
Pam and John Mitchell From Muskoka Ontario Canada/ Abaco Bahamas
To Maire & Wally . Still the best B & B in New Zealand.Still the best view, food and most restful place around. Thanks so much for such a relaxing stay. Yes I will come back again. March 2011
Lynette From Auckland
Thanks again for a lovely weekend stay, Great location and your hospitality was appreciated :)March 2011
Steve & MaryAnne Laurence From Auckland NZ
We are big fans of Maire and Wally….they are the most accommodating people, wonderful hosts. It is one of our favourite places to stay and we cannot recommend it enough. We always have a lovely, relaxing stay at Leighton Lodge. Tracy and Tristan
Trace From Auckland
Thank you for sharing your beautiful home. It was the highlight of our holiday
John & Anke From Netherlands
Relaxing place to stay. Wanted to take the view home
MONICA
Enjoyed three days in Paradise. Beautiful beach, excellent food, fresh smoked fish and an excellent host
LINDA, PETER & LAUREL
Wunderbar – Vielen Dank – Stunning views
Helga & Gerhard From Germany
One of the best places on the planet – don't ever let it change. Absolutely charming
Trudy From Hong Kong
Thank you so much for your hospitality, your wonderful dinners, sharing your walks on the beach with your dogs Tessa & Kiri and finding me a sea egg. Thank you for your thoughtfulness – one day I will be back
Ellie From New York USA
Thanks for making us feel at home in this wonderful place
Frederic & Emanuelle From France
Thanks for looking after us all so well. Great food, Great company, Great place. See you again someday.
Les & Roger From Wiltshire UK
A perfect honeymoon location and a great place to relax
The Bassetts From England
This is a very special place. Thank you for allowing us to share it.
Pascale & Pedro From Switzerland